1. General
Brand name is the name that will be displayed as the sender's name in emails sent to your affiliates.
In Cookie, you can decide the time period that allows tracking your affiliate's referral to keep receiving commissions.
The tracking date will start from the time a customer clicks on the affiliate's link.
Within the cookie time you've set, every order made by this customer at your shop will automatically result in commissions to the affiliate (There's no need for the customer to click on the affiliate link then).
After that date, if the customer somehow clicks to buy from the affiliate link. A new commission/cookie cycle repeats.
For example, if you set Cookie time as 30 days. During 30 days, if the customer buys anything from you, the commission will be recorded to the affiliate's account.
From Day 31 onward, any purchases from the customer if not via the affiliate link will NOT lead to any commission recorded to the affiliate anymore.
Whenever someone signs up to be your affiliate, their status will become pending for you to review (active/inactive), if you want to activate these affiliates automatically, turn on Auto Active Affiliate. 
Whenever an order is brought to you through an affiliate, its status will be pending for you to review its eligibility (Approve/Deny), so if you want to approve these order automatically, turn on Auto Approve Order
Tracking by Coupon feature has been released, it allows your affiliates to promote your shop through coupon code. Click On button to activate this feature.
After making any change in Setting, click Save changes to apply.
2. Payment
Select your available payment methods, the chosen options will be displayed on your Affiliate page, they can only choose ONE from the available methods.
Be noted that if any of your affiliates hasn't specified a payment method, you can't click Mark as paid when paying them.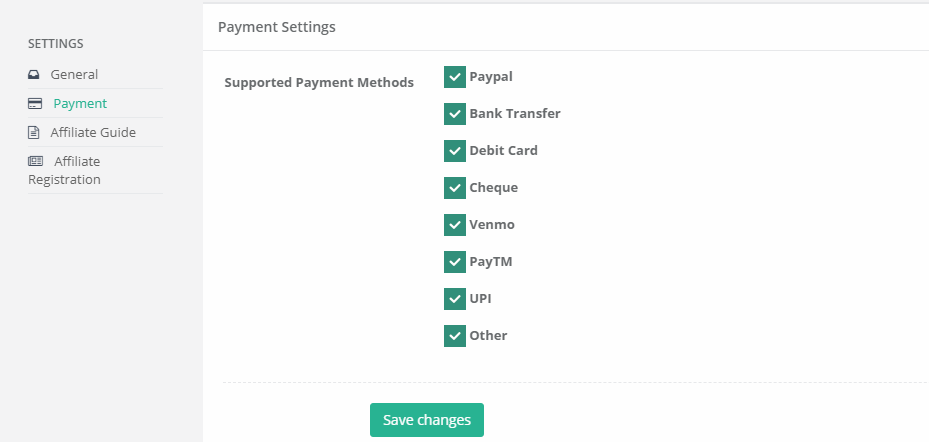 3. Affiliate Guide
In Affiliate Guide, we provide a default text but you can customize content to highlight important notes. The text will be displayed on your affiliates' page as a guide to instruct your affiliate how to work with you.
 4. Affiliate Registration
You can edit your affiliate registration form in this section, we support you customize Text, Color, Background and Logo. Be noted that information displayed on the form such as commission type, commission amount,... will be taken from your default affiliate program.
You can refer to this document to know how to add the affiliate registration link on your shop menu.
A preview will be provided for you to have a sample view. After editing the form, click Save to apply.